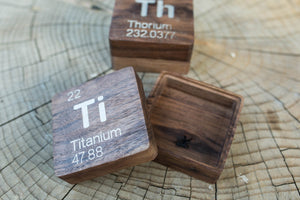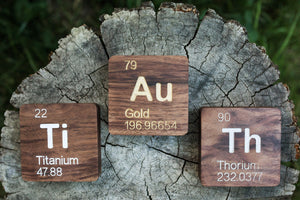 Titanium (Ti): Periodic Table Atomic Element Carved Wooden Box - Walnut Hardwood
Introducing the Luminous Rex Elemental Series - a carved box of solid walnut hardwood, displaying your favorite atomic element from the periodic table.

The top surface of the box displays the element's Atomic Number, Atomic Symbol, full name, and atomic weight. The top and bottom half of the box are each created from a solid block of quality Walnut hardwood, and sealed using a light coating of Tung oil. A well-fitting overlapping joint allows the box to snap open and closed. The engraved atomic data for the element are cut in relief and painted for visibility.

This element, Titanium (Ti) has its relief text painted in metalic white/silver.  Please check out the other available elements in our shop - if you desire a particular atomic element, message me and we'll add it!  

Luminous Rex Elemental Series boxes are a great gift for any scientist, engineer, or student in your life. Whether interested in chemistry, physics, or biology, the atomic elements are a part.

Box measurements:

8 x 8 x 4.5cm (external)
7 x 7 x 3.5cm (internal)

This is a high quality, hand made product. Designed and created in the USA.