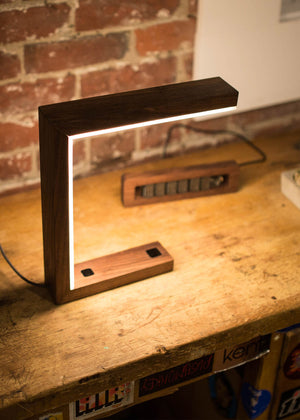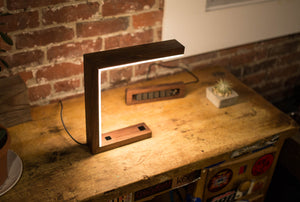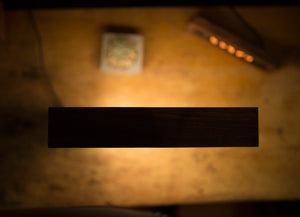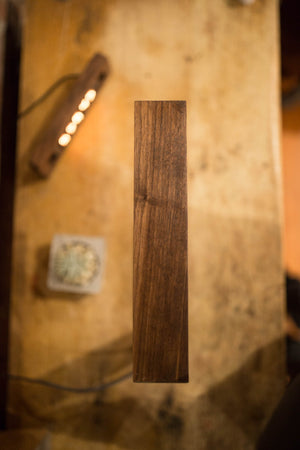 Luminous Rex :: Linear Lamp
The Luminous Rex: Linear Lamp is an elegant yet simple tabletop luminaire for your home or office. With a simple wave of the hand, control both on/off and change color temperature. When turning the lamp on/off, the light will blend from the base of the lamp to the top, for a pleasant transition from dark to light. Visit instagram.com/luminous_rex for video.

Color temperature is easily changed, from warm (2700K) to cool (5000K) white light. Linear Lamp remembers your color temperature choice, even when unplugged.

Linear Lamp comes with a 10 foot braided power cable, available in black, red, and houndstooth pattern. Power the Linear Lamp from any standard USB charger, computer USB port, or USB battery pack.

The lamp's wooden body comprises of solid walnut, joined using traditional woodworking techniques combined with computer aided machining. The base of the lamp features a solid piece of either brass or mild steel. The added 2kg weight of the base gives the lamp a solid presence on your desk, table, or counter top.

The diffuser is a specially crafted polymer with unique coating for maximum soft scattering transmission of light.

Hand-crafted, each luminaire shows unique wood grain pattern. No two lamps are alike - each Luminous Rex: Linear Lamp is a unique and one-of-a-kind piece.

Overall size is 29 x 32 x 6 cm (11.4 x 12.6 x 2.4 inches).

Please visit the https://www.instagram.com/luminous_rex for video and photos


PLEASE NOTE:

- The photos currently show the Linear Lamp with no metal base. The solid steel or brass base photos will be added soon.

- Please note that this product is not UL listed. However, it is constructed using only UL-rated components. We take pride in quality control, and test/inspect each product prior to shipment.