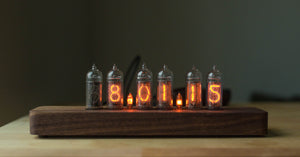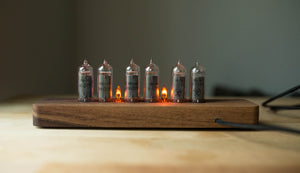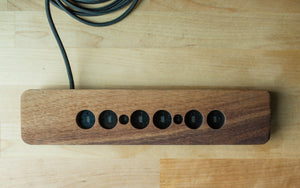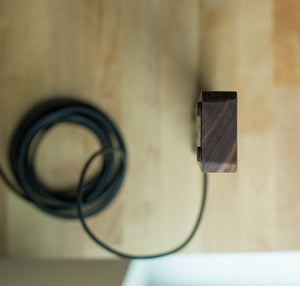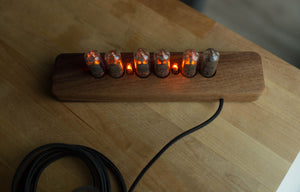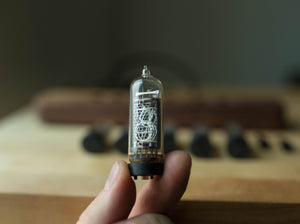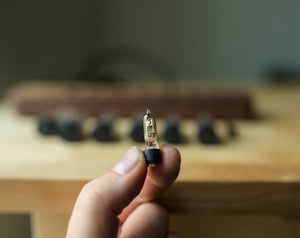 Nixie Tube Clock - Solid Walnut
* Please note - current lead time 4-6 weeks *
Rex offers this Nixie tube clock in a case of solid walnut hardwood.

This tube clock is a new take on an old display technology. Using Nixie tube display units, this clock provides a beautiful glowing display of hours, minutes, and seconds. These tubes were used in laboratories, aircraft, and other mission critical environments in the 1960s through the 1980s, providing clearly displayed digits from a wide viewing angle.
Each clock is made by hand -- we use a CAM process to construct the solid walnut hardwood enclosure. After, it is finished, sanded, and sealed using hand tools. The entire process happens at our workshop in Seattle.
Each tube is 19mm diameter x 55mm in height. The tubes have a modular connector, so they can be removed from the clock or replaced if broken.

The clock enclosure's overall dimensions are 247 x 55 x 24mm.

This clock is powered over USB, with a high quality black braided cord. You can power the clock using any standard USB-A port on your computer, a standard USB charger, or USB battery pack.
The clock has internal battery backup, retaining the correct time when not plugged in. You can download the app to set the clock's time when plugged into your PC or Mac here:

The clock comes with a one year warranty, and two spare tubes are included (one spare digit tube, plus one dot indicator tube).